Power washing is an excellent way to protect your home from long-term damage and restore curb appeal instantly! Residential pressure washing is a great cleaning method for exterior walls, patio pavers and concrete surfaces, wood fencing and decks, windows, and gutters.
Power washing uses specialty detergents and pressurized water to dissolve and remove thick dirt, mud, sand, silt, mold, moss, algae, oil stains, chewing gum, and other such debris. Pressure washing allows you to clean large areas quickly and dislodge debris even from nooks and crannies in brick, roofing shingles, and concrete, improving air quality and your property's appearance.
While a clean and pristine property is a vital reason to consider regular pressure washing services, there are many  other advantages to professional power washing. It's also recommended that you leave this work to the professionals, even if it does seem easy enough to rent pressure washing equipment and tackle it on your own!
If you've been putting off residential power washing or have been considering getting your own power washer, you might note some advantages of professional pressure washing. Be sure to discuss your options with a pressure washing company as well, so your home and property are always clean and looking their best.
What Does Power Washing Do?
If your home is caked with thick dirt and mud, you might know immediately the reasons you should schedule pressure washing services! However, note a bit more vital information about pressure washing and its advantages for your house and property.
Pressure washing detergents seep into pits and pores of concrete and patio pavers, dissolving sand, silt, and other residues often missed by garden hoses and brooms.
Soft wash systems start with specialty surfactants designed to dissolve thick dirt, mud, silt, and other grime, making cleanup easier and more thorough overall. With a soft wash cleaning, there is less splatter and mess and risk of damaging exterior surfaces and landscaping.
Fence and deck pressure washing kills mold and mildew on wood surfaces, reducing the risk of those materials spreading and causing more damage to wood. Power washing also kills mold and algae on exterior walls and roof eaves, for improved outdoor air quality.
Power washing dissolves dirt and dust settled into tiny cracks and pits of exterior window glass, ensuring a cleaner look and keeping those cracks from growing and spreading.
Regular roof cleaning removes storm debris, leaves, twigs, seeds, acid rain residues, and dirt from a home's roof, protecting shingles from damage. Roof cleaning also kills damaging algae and exposes areas in need of repairs!
Airborne chlorine residues settling onto pool decks dry out pavers and stone, leading to cracks, chips, and other damage. Pool deck cleaning scrubs away residual chlorine, sand, storm debris, and other damaging residues, restoring the look of pavers and creating a safer surface for foot traffic.
Mud and dirt hold moisture against a home's exterior walls and foundation, increasing the risk of cracks and water damage. Exterior house washing removes that dirt and debris, protecting the structure from damage and increasing its curb appeal.
Pressure washing removes insect nests and termite tunnels, reducing the risk of those bothersome pests making their way into your home!
Power washing also reaches lots of areas of a home inaccessible to an underpowered garden hose or that need more pressure for proper cleaning than a garden hose produces. Pressure washing is an excellent choice for cleaning gutters and downspouts, the corners of roofing eaves, light fixtures, areas around basketball hoops attached over a garage door, and other such hard-to-reach spots!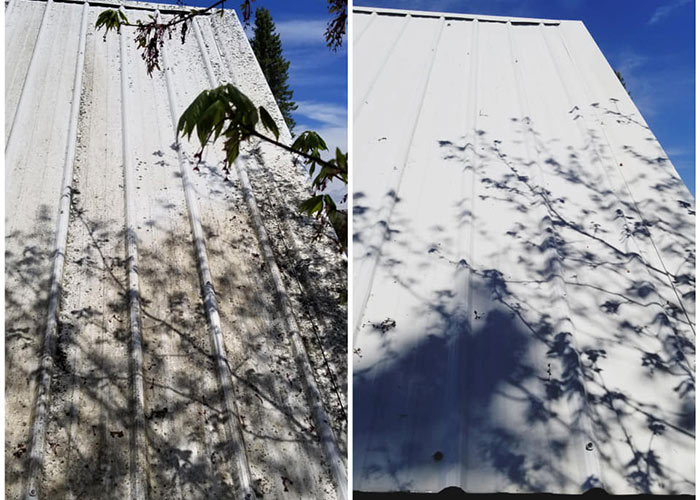 Can You Power Wash a House Yourself?
Power washing often seems like a simple task; simply rent some pressure washing equipment, fill the tank with water or attach it to a water source, add some detergents, and squeeze the trigger! While this process might look simple, there are many reasons to consider leaving this work to a professional and especially if your home needs window or gutter cleaning, roof washing, and fence or deck cleaning.
Rented pressure washing equipment is typically bulky and heavy to use, although still underpowered for most residential power washing needs! You might struggle and even risk an injury getting the equipment from the home improvement store, but find your property is not as clean as expected after its use.
It's vital that you exercise caution when using an electric-powered pressure washer, as allowing its cord to sit in puddles of water might risk shock and even electrocution! Adding fuel to gas-powered machines is also dangerous, as you might risk spilling the fuel on yourself or elsewhere.
Using too much pressure on exterior surfaces risks severe property damage! It's easy to shatter a window, chip concrete and brick, or crack wood surfaces with pressure washing equipment.
Being on a ladder is dangerous on its own but trying to manage pressure washing equipment at the same time is also downright dangerous! The force of the pressure can knock you off that ladder easily, risking serious injury.
Improper washing techniques leave behind swirl marks, water stains, and other unsightly damage, especially along wood surfaces. Not rinsing an area fast enough also risks leaving behind streaks and other stains.
A power washing contractor not only ensures safety when cleaning your home and property but he or she knows the best techniques for cleaning various surfaces around your property and how to remove thick dirt and tough stains. A pressure washing contractor near you also knows the various nozzles used during power washing, when to use hot water versus room temperature water, the right cleansers for various dirt and debris, and other means of ensuring a quick yet thorough pressure washing job.
When Does a Home Need Pressure Washing?
Don't wait until your house is covered in dirt and grime to schedule a power washing! Sand, silt, acid rain residues, and other debris damage a property's many exterior surfaces long before they become thick and bothersome. Most homes benefit from power washing every other year or every three years, although you might need pressure washing more often at least for various surfaces around your property:
If you live in an area prone to strong storms, consider annual power washing after that stormy season, to remove leaves, twigs, small branches, and other storm debris from a home's roof and exterior surfaces.
Storms also leave lots of residues on exterior window glass. Annual window cleaning removes that debris, for improved curb appeal and a better view from inside your home as well!
If you tend to cook a lot outdoors, you might schedule power washing once you're ready to close up the patio or deck for the season, to remove ash, smoke stains, soot, and other residues from your home's exterior walls.
When exterior surfaces look dull and dingy, schedule power washing before deciding you need new decking, patio pavers, and other materials. Those surfaces might simply be covered with dirt, dust, and other debris; a good pressure washing often restores color and makes surfaces look like new again!
Schedule a thorough power washing before putting your home on the real estate market. You might be concerned with the appearance of your home's interior or assume that it's a waste of money to pressure wash a home you want to sell, but a clean and pristine exterior makes the home look its best and removes bothersome mold and other residues.
What is Pressure Washing Versus Power Washing?
The terms pressure washing and power washing are often used interchangeably, but there is a slight technical difference between these two cleaning processes! Both pressure washing and power washing use pressurized water for cleaning, but power washing uses hot water versus lukewarm or room temperature water.
Hot water is an excellent choice for dissolving grease and oil, such as motor oil stains on a residential driveway. However, hot water might damage wood surfaces and isn't typically needed for exterior house washing, window cleaning, gutter cleaning, and other such residential pressure washing.
Many pressure washing companies today also offer soft wash systems, which start with specialty surfactants designed to dissolve thick dirt and mud as well as grease and oil. Once dissolved, these residues only need a slight bit of pressure for rinsing, making soft wash systems an excellent choice for virtually every surface around your property.
Related Questions
Does pressure washing damage a home?
Improper techniques and the wrong tools risk damage to siding, brick, wood, and exterior glass. However, professional power washing protects a home from damage caused by mud, acid rain residues, and storm debris, while improving the look of your property instantly.
Are there surfaces you can't pressure wash?
Soft wash power washing is an excellent choice for virtually every surface of your home, as it removes dirt and debris without excessive water pressure. Low pressure cleaning is also an excellent choice for washing trash cans, barbecue grills, and even your car, but ensure you know the proper PSI and cleaning nozzle to use so you avoid damaging your property.